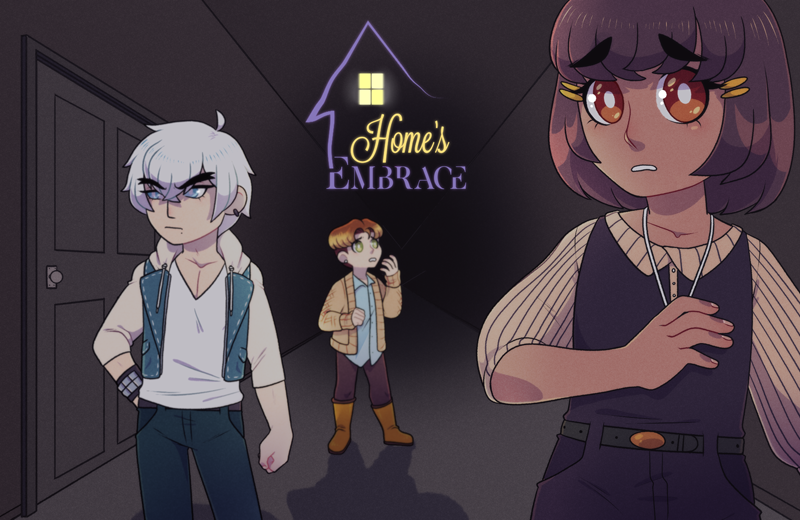 Home's Embrace
A downloadable vn for Windows, macOS, and Linux
Rated 17+, Gore, Disturbing Sounds

Headphone Users are recommended to lower the volume.
Summary

Luana's best friend Waite has inherited his deceased Aunt Nelda's home, and now that they've graduated college they're moving in. On the first night, they're woken up by the sound of doors opening and closing. After searching the nearby room, they find a strange guy inside. He claims the house belongs to him and both of them shouldn't be there. However, Waite drags him out and tries to throw him out the front door.

When he goes to open the door, instead of the front lawn, is a room covered in cobwebs with claw marks on the wall. When they try to return to the bedroom, they find themselves in a hallway instead, shadowy hands grasping at their bodies.

Every door they open leads to another room, some repeating, some even twisting.

Will Luana ever be able to leave her new home with Waite and their unexpected guest?

Characters

Our Main Character




Luana

Had a bit of a rough childhood, but never let any bullies get to her. Tries to keep a cool head to keep Waite in line.

Love Interests




Waite

Luana's best friend ever since she stuck up for him. Distrustful of others, willing to start fights over trivial things.




The Trespasser

Pops up in the middle of the night. With his claims of ownership, both Luana and Waite believe he's crazy.

Report bugs, look at the walkthrough, or chat with us on our Discord!
Don't have/want a Discord account to look at the walkthrough? Click here instead!
We also have a twitter and a newsletter!
(And while I'm at it, here's the teams personal twitters.)
Fungii, Camy, D.ray, ezbreezy, sonomura, and Razumi.
(I don't have a twitter, and don't plan to anytime soon.)
Our Team

Sunlit-Dreamer: Writer, Programmer
Fungii Draws: Sprite Artist, Main CG Artist, Proofreader
Camille Arana: Logo Artist
D.ray: Composer, Audio Producer
Emma Breezy: Voice Actress
Edward A. Mendoza: Voice Actor
Razumi Yazura: GUI Artist, CG Artist, Voice Actor, Q&A
Download